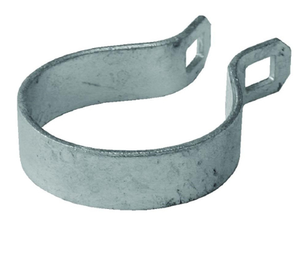 3-1/2" Galvanized Steel End Band
The American Fence Company
SKU: 10468
Regular price $1.56 Sale
---
Our 3-1/2" Steel Rail End Band (also known as a brace band) is used to attach an end cap to a terminal post. Additionally, they can be used to attach barb wire to end posts and to secure truss rod tighteners.
Made for 3-1/2" diameter tubing 
Galvanized heavy steel 
Nuts and bolts not included; part #11170 
Rust and corrosion resistant 
Versatile
How the part fits? A 3-1/2" end bands are designed to go over 3-1/2" terminal posts
Where is it installed? A 3-1/2" end band is installed to support the rail end at the top of the fence. The 3-1/2" end band will be placed adjacent to the rail end on the 3-1/2" terminal post.
How many do you need? You will need (1) 3-1/2" end band per termination of fence. For every full stretch of fabric, you will need (2) end bands for your (2) terminal posts.
3-1/2" end bands should be installed after you install your tensions bands. Your end band will slide over your 3-1/2" terminal post adjacent to your rail end. You will then slide your rail end in between the tangs of the end band and place a 5/16" x 1-1/4" carriage bolt through the band and rail end and tighten the nut.