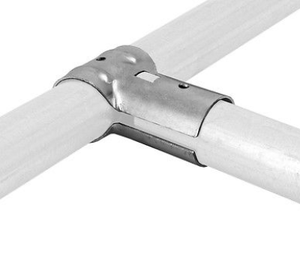 1-5/8" x 1-3/8" End Rail Clamp
The American Fence Company
SKU: 10605
Regular price $3.89 Sale
---
Our durable 1-5/8" x 1-3/8" End Rail Clamp is used to connect two pieces of posts or rails in a T-joint. Commonly used in industrial, commercial and residential applications, our clamps are galvanized for superior corrosion resistance no matter the use or weather.
Rust-resistant 
Carriage nut and bolt sold separately, part 11171

Due to minor manufacturing differences, actual product may vary slightly from pictures shown

How the part fits? The clamp consists of 2 galvanized steel pieces that sandwich two pieces of pipe in a T joint. 
Where is it installed? End rail clamps can be used to secure a bottom rail or mid-rail to a chain link fence. Commonly you will see end rail clamps used on backstops, baseball field fencing, tennis court fencing, and outdoor dog kennels.
How many do you need? Each clamp consists of 2 pieces that together sandwich one T joint. Typically you will need two clamps per post-to-post stretch of fence.
Fits 1-5/8" outside diameter post and 1-3/8" outside diameter rail. .44 lb.

Placing one piece of the clamp on either side of the T-joint, secure the clamp in place using a nut/bolt (sold separately, part 11171) for added strength and stability to your fencing project.